As per Gartner, Artificial Intelligence (AI) is expected to be one of the top five investment priorities for more than 30% of CIOs globally by 2020.
To put it simple terms, Artificial Intelligence is the ability of a machine to perform tasks that are as similar to that of human decision making and learning. It was in the 1950s that Artificial Intelligence was first defined and although it has been around since then, it is only recently that the innovative technology has started to find real-world applications.
ACI Infotech helps enterprises to unlock business value and create a future of digital growth by leveraging deep learning-powered intelligence and machine learning algorithms.
And today, Artificial Intelligence is transforming the way businesses are operating with a unique combination of cutting-edge technologies facilitating machines to comprehend and execute the tasks that were carried out by humans. One of the prime reasons companies are looking forward to implementing Artificial Intelligence and Machine learning is that they can have a comprehensive analytics strategy in place to achieve their business goals.
Data Analytics changing the bottom line of businesses, more and more companies are mastering the use of analytics and delving deeper into their data to increase efficiency to gain a greater competitive advantage. The various advantages of AI and machine learning are helping companies analyze more complex data and derive more accurate results.
As per Gartner, AI is expected to be one of the top five investment priorities for more than 30% of CIOs globally by 2020.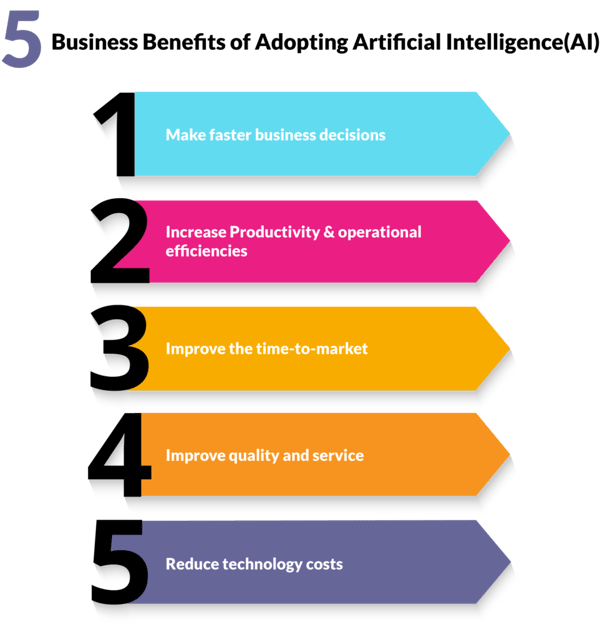 The significance of Artificial Intelligence
Artificial Intelligence helps in unleashing actionable insights trapped in massive amounts of unstructured data and AI has this capability of seeing patterns in data that even trained professionals can sometimes miss.
AI also helps in automating significant, but time-consuming and manual tasks, which in turn helps employees to concentrate on much higher-value work. From extracting new insights, transforming decision making to improved business outcomes, AI helps in making life easier.
As per a PwC report around 72% of business decision makers strongly believe that Artificial Intelligence provides a competitive edge on the business front.
And as per Statista, finance, advertising, consumer and aerospace, and health care are the main sectors which are leading in AI adoption with the AI market projected to grow to almost US$60 billion in the next 7 years.
Business Benefits of Adopting Artificial Intelligence
Enterprises that leverage Artificial Intelligence always has an advantage over those that do not do it. AI solutions, when deployed help executives with better insights about their processes, products, and customers. It also helps businesses to manage their limited resources in a better manner, and apply the resources wherever they matter most.
AI technologies when adopted and deployed in a proper manner to transform the business will help CXO's and leaders to do the following:
Help make faster business decisions
Increase productivity and operational efficiencies
Improve the time to market
Improve quality and service
Save time and money and reduce costs
As per Gartner's 2018 CEO and Senior Business Executive Survey, 65% of respondents think that AI will have a material impact on an area of their business
Today more and more industries, including financial services, healthcare, and retail are, adopting AI technology, and in turn, the technology's value is increasing its impact on the businesses in that particular industry. Let's take a look at some applications of machine learning in four key industries:
Retail
Retailers are actively adopting deep learning-powered intelligence and according to Gartner, by 2020, 85 percent of customer interactions in retail will be managed by AI.
Online retailers are using the Machine learning algorithms in the following ways:
Price variations and changes if monitored over a certain period of time help eCommerce companies to track the patterns in these fluctuations and they can further set the price accordingly.
Retailers can take help from the online recommendation engine to provide certain personalized promotions or user experience that is based on a customer's previous customer activity or purchase.
Better customer service and delivery systems are possible using smart machines which can reduce response time and support in situations where resources are less.
Financial Services
Paypal has adopted a deep learning system which helps in filtering out deceptive merchants and also traces out sales of illegal products. Citibank's Citi Ventures arm's investment in Feedzai, a machine learning company helps identify and prevent fraudulent transactions before they are completed.
Machine learning can be of great help to insurers, banks, and investments to make smarter decisions in different areas like reacting to market trends, managing client satisfaction, predicting the risks and to innovate to stay competitive.
Artificial intelligence is helping the Banking and Financial sector to manage the huge amount of data that gets generated and also in detecting the different anomalies in transactions.
There are financial institutions which are depending on machine learning for forecasting trading volatility and managing of wealth and assets. These algorithms can help identify trends even more efficiently than humans can do and also react in the real-time.
Healthcare
There is a great potential for AI in healthcare – from promising to predict diseases in time to preventing diseases in time, AI can also help doctors diagnose and treat cancer.
AI's effectiveness has also been seen in identifying warning signs of adverse drug reactions, helping physicians to augment the course of treatment before any lasting damage is made to the patient. AI is also equally supportive of medical image analysis as it identifies areas that require additional examination. Today, robot-assisted surgeries have become too common.
These surgeries prove to more precise and also have a higher success rate with faster recovery and smaller surgery scars. And making telemetry a reality is personalized health monitoring which uses smart watches and other wearable devices.
Manufacturing
Artificial intelligence has quite a potential in the manufacturing industry for a variety of processes and tasks. And one of the most common areas is in production. When the AI is embedded into robots, it can be utilized in various tasks which are proved to otherwise dangerous for humans. And when incorporated in special purpose robots, it also saves labor over a long period. This contributes to increased precision, speed, and enhancement of employee safety.
Manufacturing companies are adopting AI to run leaner supply chains so the cost of transportation and wastage can be cut down.
AI helps in anticipating demand through historical sales, recent uptakes and also other business environment factors to run on-demand production.
Conclusion
Artificial intelligence not only provides various opportunities in increasing productivity and reducing costs but adds a deeper value by providing intelligence to the business that was not present before.
With AI, enterprises can make better decisions, truly based on the contractual data, which they couldn't do before. As AI learns over time, it can design more processes and automation scores that can help businesses run smoother over time.
Why choose ACI Infotech as your Artificial Intelligence partner
Organizations that are in need to innovate their process using AI, our AI services help to build AI solutions to drive business value and to be AI innovators and become an "Intelligent Enterprise".
With our AI services you can quickly add value:
Accelerate business outcomes
Enable quick processing of digital data and transactions
Analyze text, video, and audio to improve the customer experience
Enable data-driven decision making to create digital organizations