Gartner Survey Finds 59 Percent of Higher Education CIOs Expect Significant Business Model Change Due to Digital Transformation. Today, the Education industry as a whole is facing several key challenges. As the competitive landscape for educational institutions is expanding and diversifying, the very concepts of traditional ways of teaching and classroom structures are questioned by both parents and students. There are various educational institutions that have technology infrastructures which are bound in cycles of technology silos inhibiting innovation. If you look at from the operational perspective, there are outdated legacy systems across the educational institutions which hinder the very efficiency of it. The traditional on-premise systems are too sophisticated and expensive to maintain, tough for further updating and too risky for a new change.
Gartner Survey Finds 59 Percent of Higher Education CIOs Expect Significant Business Model Change Due to Digital Transformation.
But then, educators who come from different grade-level are realizing the benefits of technology in the classroom and beyond it. Education is still one of the last industries to undergo and adapt extensive change – still running with antiquated methods and practices. But there are many educational institutions around the world who understand the advantages of digital transformation and the rise of educational technology. Instructors and teachers have started to make major changes to their regular instructional and assessment methods and that too at a faster speed rate.
The current trends in digital technology in education are making headlines as they are in a huge way impacting student learning from virtual personal assistants for students to embedded CRM, digital transformation helps educational institutes to serve better. Today technology is very much changing the landscape of higher education. Educators are today implementing technology in classrooms, from massive open online courses (MOOCs) to flipped classrooms the new methods and ways are there to enhance the student learning experience.
Below are six opportunities to accelerate transformation at your educational institution
Internet of Things
In the field of education, interactive boards and digital highlighters are among the popular devices related to IoT. The boards help in accelerating and simplifying the learning experience as they receive, acknowledge and reciprocate information in an easier manner. At the same time, digital scanners help in the digitally transferring text to smartphones, hence facilitating the learning experience. It becomes easier for students to interact with educators and instructors sitting across the world. With the help of Internet of things, educational institutions can promote a collaborative environment, as students while working in groups can transmit their data to a collaborative work area by just scanning a QR code or RFID tag by using their smartphones. IoT applications are also used to integrate mobile learning applications and there has been an increase in use for evaluating and grading systems.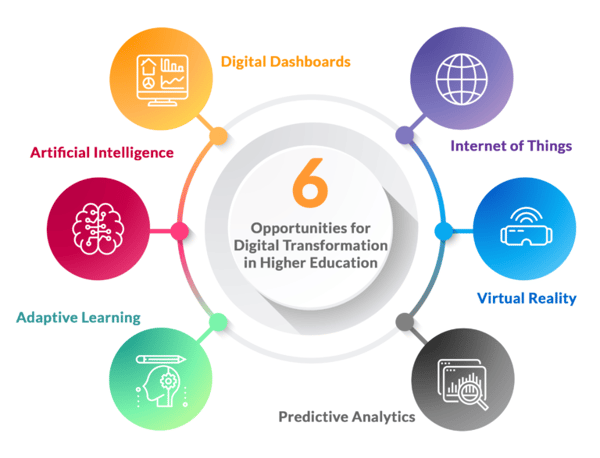 Virtual Reality
There has been a challenge to provide experiential learning as it is cost intensive and virtual reality is changing that. VR transforms learning through interactive and dynamic experiences enabling educators and students to engage with each other through a huge spectrum of interactive resources. In higher education, VR has found some interesting applications. Virtual and augmented reality are examples of transformative technology which is helpful in enhancing instruction and also creating lessons that are engaging and fun for the students. For example, an app like Cospecies helps students to share the virtual creations done by them with the world.
Predictive Analytics
Students have the tendency of dropping out of university programmers at various stages because of certain reasons. The reason could be socio-economic, long distances, selection of the wrong course and also difficulty in managing curriculum schedules etc. Though each of the problems can be solved, predicting and identifying students who are most likely to drop off is difficult. This challenge of retention can be done by analyzing student data and using it to predict who among the students are the most likely to drop out of the courses. Before the student plans to drop out, interventions, when applied at the right time, can help the student to continue by providing the correct solution. Big data and predictive analytics in higher education institutions can help students make better decisions. Consolidating the complete demographic, academic and social data can be basically used to create better interventions so that the student is put back on the track. An easy example of this is providing a student with low grades in science, a reminder about tutoring or coaching. A little more complex variation will be studying a particular student's eating habits while his visit to the cafeteria from four days a week to once a week can probably mean an intervention is required. An easy access to key data allows faculty and instructors to intervene in a faster mode.

Adaptive Learning
For many years from now, the traditional, one-size fits all teaching methodology has dominated education and moving away from all this is adaptive learning. Adaptive learning is dependent on Data sciences, Artificial intelligence, Machine learning and creates a scalable personalized content, mimicking one-on-one learning. This finally helps students to be a master of a topic before they move to the next topic. For example, in HarvardX, an adaptive learning program providing online courses from Harvard University, the students who were in the adaptive group were much faster through the course materials as compared to the controlled group. It was also found that they gained a 19% greater knowledge.
Artificial Intelligence
Enabled Digital Assistants As it is not always possible for instructors to be around all the time to answer the queries students have, AI enabled digital and conversational assistants can be of great help. As they are based on domain-specific applications, basically built on speech technology like National Language Processing and AI, they can help answer the queries raised by students. They can be utilized as the instructor's assistant when they are trained properly to and analyze and provide grades and feedback to students and also virtual training. There are also students from different parts of the world who are using technologies like Siri, Cortana, Alexa to manage lives with the expectations that these technologies can help them with their education also.
Digital Dashboards
With the help of dashboard technology, extracting learner data becomes easier. Instead of spending time on marking papers or gauging responses in the classroom, a single click on the mouse can provide accurate data and report key performance indicators. It not only delivers organization-wide visibility of a student's achievement but can even provide minute details. As and when an issue occurs it gets highlighted and instructors or teachers can review teaching areas and look at the performance to identify different trends and track learners. This helps in providing continuous feedback from students, instructors and in turn improvises teaching and learning outcomes.
Conclusion
In the last decade, advanced digital technologies have changed and enhanced so many other industries but the education industry is still in the beginning stage of adoption. Hence, it is important to assess and evaluate the digital transformation readiness in the industry for the challenges and to further embrace the possibilities it has. It is time for the education industry to apply them to take it to the next level. Students, parents, and educators are today ready for digital devices, technology, and learning materials. Despite the various factors and motivations that drive them to use technology, there still seems to be a problem of choosing the right technology. Partnering with the right and experienced digital transformation provider can help to better understand the steps involved in the journey.
Why choose ACI Infotech as your technology partner
ACI Infotech with its expertise in the higher education field has a deeper understanding of the specific business process functioning with the higher education. Whether it is planning or project consultation, or modernizing the delivery of education, ACI provides "vision to completion" IT consulting, managed services, application development, enterprise services and complete technology solutions for Higher Education and K – 12 education institutions.