"Explore how Salesforce Sales Cloud Einstein reshapes user experiences with cutting-edge AI features. From forecasting to data-driven insights, discover why it's the next-gen upgrade your business needs for a competitive edge. Transform your sales strategies with Salesforce's game-changing Einstein Sales Cloud."
In the ever-evolving landscape of business technology, staying ahead of the curve is crucial for success. Salesforce has consistently provided businesses with innovative tools to enhance their operations. One such groundbreaking addition to Salesforce's offerings is Salesforce Sales Cloud Einstein. If you're wondering whether Salesforce Sales Cloud Einstein is your next-gen user experience upgrade, the answer is a resounding yes. Every version of Einstein comes with astonishing features and capabilities. The latest version in the block is Einstein Copilot and its studio.
Einstein Copilot is an innovative and preconfigured conversational AI assistant seamlessly integrated into the user experience of every Salesforce application. Its core mission is to enhance productivity by providing users with intuitive support within their daily workflows. This includes the ability to pose questions in plain language and receive reliable answers grounded in secure proprietary data from Salesforce Data Cloud.
Furthermore, Einstein Copilot goes beyond query responses, offering proactive suggestions for additional actions, such as generating a post-sales call action plan or creating new service knowledge articles. And with the Einstein Copilot Studio, businesses can have a user-friendly platform to develop a new generation of AI-powered applications. With customizable prompts, skills, and AI models, companies can expedite sales processes, streamline customer service operations, automate website creation based on user browsing history, or even transform natural language queries into executable code. Additionally, Einstein Copilot Studio offers configurability options to extend its functionality to other consumer-facing channels like websites, enabling real-time chat support on platforms such as Slack, WhatsApp, or SMS.
Turbocharging Productivity with Conversational AI
Einstein Copilot, the trailblazing conversational AI assistant that's revolutionizing the way businesses operate. It's not just another AI tool; it's your secret weapon for driving massive productivity gains across various facets of your organization. Powered by Salesforce's Sales Cloud Einstein, this AI marvel is securely grounded in the wealth of customer data from Salesforce Data Cloud, ensuring it delivers trusted and precise recommendations and content. Let's dive into how Einstein Copilot is rewriting the playbook for AI-driven productivity.
A Seamless Integration Within Your Workflow
Before the advent of Einstein Copilot, other generative AI copilot solutions operated as standalone applications, detached from your work processes. They struggled to access and utilize trusted company data effectively, leaving users with inconsistent results from large language models. However, Einstein Copilot breaks the mold. It's seamlessly integrated into the world's leading AI CRM, Salesforce Einstein, drawing insights from any Salesforce application to provide spot-on AI-driven recommendations and content.
Natural Language Mastery for Enhanced Efficiency
Einstein Copilot's pièce de résistance is its natural language prowess. It takes mundane tasks and transforms them into lightning-fast, intuitive actions. Whether you're in sales, service, marketing, commerce, development, or data analytics, Einstein Copilot can lend a hand with:
Sales: Streamline tasks such as researching accounts, updating account information, summarizing video call highlights, simplifying customer call navigation, crafting personalized sales emails, and seamlessly embedding contract clauses into customer contracts.

Service: Empowers businesses to respond to customers with personalized, relevant answers, across multiple channels, while seamlessly integrating generative answers into service team workflows to streamline support cases and field work orders.

Marketing: Revolutionizes marketing by generating email copy for dynamic campaigns, enhancing segmentation with Data Cloud, crafting personalized landing pages, effortlessly designing contact forms that populate Salesforce profiles, and conducting post-action surveys to drive long-term engagement and conversions.

Commerce: Provides invaluable assistance by offering step-by-step guidance for creating high-converting digital storefronts, automating the management of multi-product catalog data, crafting product descriptions in multiple languages, personalized promotions, and SEO metadata, and allowing effortless customization and design of storefront components through intuitive natural language prompts.

Developers: Empowers developers by seamlessly translating natural language prompts into Apex code, providing valuable suggestions for enhancing code effectiveness and accuracy, and proactively scanning for code vulnerabilities, all within the developer environment, ensuring a secure and efficient development process.

Tableau: Accelerate the transition from raw data to actionable insights through a user-friendly conversational interface, while also enhancing data analyst productivity by simplifying data exploration, visualization, and task automation, ultimately promoting efficient data curation and adherence to best practices.
Einstein for sales cloud caters to professionals in various sectors, enabling them to leverage its capabilities effectively. From financial sector to automotive, salesforce einstein sales cloud serves professionals enabling personalized financial coaching, automated healthcare administration, predictive insights for automotive services, and efficient course mapping in education.
Craft Your Custom AI Assistant with Einstein Copilot Studio
Enterprises seeking tailored AI solutions will find Einstein Copilot Studio to be a game-changer, allowing them to build and customize AI assistants adept at handling sales, service, marketing, commerce, and IT tasks with ease.
Notably, Einstein Copilot won't be confined to Salesforce applications alone; it will seamlessly extend its capabilities to customer-facing channels. This expansion will supercharge customer interactions by embedding AI assistants into websites for real-time chat and integrating them into popular messaging platforms like Slack, WhatsApp, and SMS.
Within Einstein Copilot Studio, three key components will empower businesses:
Prompt Builder: This user-friendly tool simplifies crafting AI prompts that align with brand communication. For instance, a marketer can request personalized messages and discounts based on customer history and location.
Skills Builder: Businesses utilize this tool for custom AI actions, like creating a "Competitor Analysis" skill. This skill processes data, analyzes sales, and interacts with external databases to offer a comprehensive competitor overview.
Model Builder: This tool offers flexibility, enabling companies to choose AI models for unique needs. It supports Salesforce's proprietary LLMs and seamless integration of partner AI models.
At the heart of this innovation is the Einstein Trust Layer: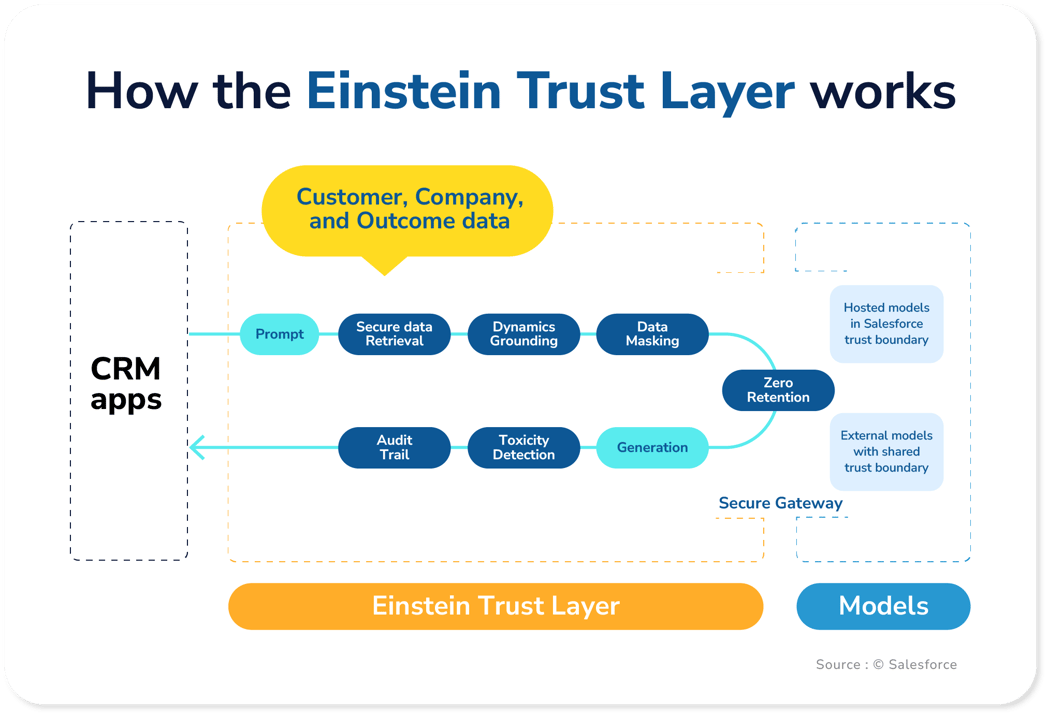 Integrated and Secure: This robust AI architecture is deeply ingrained within the Salesforce Platform, seamlessly enhancing generative prompts with trusted company data through integration with Salesforce Data Cloud.
Data Privacy and PII Protection: Rest assured, your data won't be retained by third-party LLM providers, safeguarding customer personally identifiable information (PII).
Safety and Compliance Monitoring: A safety-detector LLM ensures content safety by evaluating AI-generated content. Every AI interaction is meticulously logged in to an audit trail, offering companies visibility and control over data usage while complying with safety standards.
Conclusion
In conclusion, Salesforce Sales Cloud Einstein undeniably represents your next-gen user experience upgrade. Its distinctive features, such as sales cloud Einstein forecasting, natural language processing, secure proprietary data access, and the game-changing Einstein Copilot, collectively redefine the user experience, offering invaluable support to businesses aiming to elevate productivity, enrich decision-making, and maintain competitiveness in the digital era. By embracing Salesforce Einstein, you're not merely adopting a CRM system; you're actively investing in the future success of your business. So, why delay? Take the leap and witness the transformative impact for yourself. Your sales team will express their gratitude, and your bottom line will clearly demonstrate the significant improvements in user experience.