The priorities for cloud migration are upending over the period, for various reasons across the globe. Though cloud migration has moved to forefront across other industries, it is denser in Financial Services industry and is a daunting task because of its structural barriers and regulatory controls. Maturity of legacy systems (non-efficient), customer's interest towards digital transformation, and competitive rivalry are the rudimentary elements for cloud migration, whereas regulatory controls for data protection and structural barriers are the key challenges while migrating to cloud.
Many studies have revealed that there has been a significant acceleration in cloud migration and financial institutions are prominently investing in cloud to become agile, competitive in market and improve the efficiency in customer experience.
Security and compliance challenges were jeopardizing while adopting cloud by financial services industry in the past; the scenario has been changed now, and with the advancement in Cloud security, financial services companies are moving to cloud to identify the threats quickly and respond to them in no time. Switching to cloud:
Improves business agility and wipes out isolated data storage approach
Improves the sustainability and scalability of data management platform
Reduces the data center managing cost
Reduces operational cost and improves performance efficiency
Brings value from Enterprise Data
Provides securely access to third-party applications and data
Improves the system efficiency as per changing customer needs
Helps improve customization of service offerings and uniqueness
Cloud Migration Framework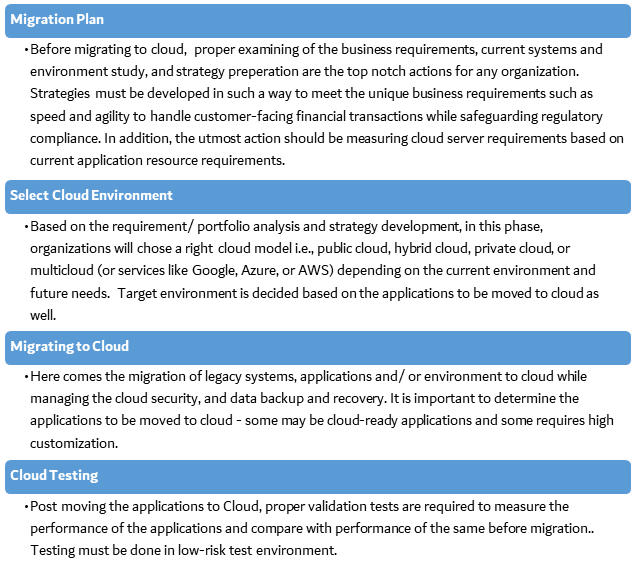 In addition to above, financial services industry needs right set of skilled resources with expertise in cloud and cloud migration for adapting and modernizing applications to function in a hybrid/ multicloud environment. Since financial sector is highly regulated, data integrity plays a vital role failing which financial companies may face severe consequences as it deals with sensitive personal and financial information. Organizations also require a robust approach to control the risk and security, post migration, which can be achieved only through a rigid and dynamic framework from strategy to implementation/ migration.
Benefits of Cloud Migration
Business Agility and Scalability: According to Gartner, CIOs rank Operational agility as top-notch driver for cloud adoption. In addition to ease the collaborations on application updates or issues from anywhere, Cloud migrations also improves the scalability automatically as per the growing demand. This reduces the need to tether an employee to a desk, as data and services are readily available with the click of a button, virtually.
Cloud native platforms, which typically run on pay-per-use subscription model" offers seamless access to and from other internal and external services and supports real-time processing by leveraging microservices-based architecture with application programming interfaces (APIs).
IT security: Security was the major challenge earlier, which ironically has changed over a period with the advancement of Cloud Security. Stringent security standards and data protection policies (GAAP, SOC, PCI DCC, HIPPA) have come into place to fight against malware, viruses, data theft, and data backup.
Decreased maintenance/ hosting cost: Since the maintenance of on-premises infrastructure is less, it eventually lowers the cost of maintenance down the road. Financial services benefit from the cloud from reduction in costs associated with procuring and storing software, multiple servers, supporting equipment, and other hardware. As the server capacity scales up and down to fit cloud needs of financial services companies, it is enough to use only required resources which potentially reduce the plethora of data centers to one or even zero.
Disaster recovery: Backup and recovery solutions implemented by cloud will help the financial services organizations to continue their services with no loss in data even under critical disastral conditions.
Enterprise harmonization: Cloud offers unified platform which enables organizations to integrate multiple business units and share the data among the teams. This in turn helps the organization for better decision making and resource optimization.
Rich stakeholder experience: Cloud migration makes it easier for financial services companies to develop quality customer experiences and streamline operations with advanced analytics capabilities to personalize offers, optimize products, and improve customer satisfaction.
Challenges in Cloud Migration
Financial Services organizations have been under gigantic gravity to migrate to cloud environment as it has been experiencing inflatable customer prospects and advancements in technology among competitors. However, there are few challenges faced by financial services organizations.
Investment cost: Financial Services organizations, though achieving promising returns on investments from cloud migration, face an uphill battle to reach that stage. Humongous initial capital is required for a successful cloud migration as it entails a rewrite of application architectures, investment in the cloud specialists and tools, and training for end users on the new systems. Organizations require solid financial and investment financial analysis before migrating to the cloud, failing which, institutions may get adverse results.
Security challenges: For the financial services industry, security and privacy are the key challenges as it deals with sensitive data. Studies revealed that 62% of financial services organizations are concerned with these challenges with public cloud – this resulted in private cloud adoption, for safeguarding customer data and IT systems.
Regulatory Concerns: Because of its nature of services, financial service organizations are under critical regulatory controls as an added layer of complexity to new technology initiatives. This can be achieved by choosing a right vendor who can be conversant with financial data regulations.
Resistance to New Technologies: Internal and external stakeholders may not accept the new technological challenges in financial services industry. This will be a roadblock to adopting cloud technologies and inhibit executive buy-in for cloud initiatives.
Conclusion
To perorate, though there exist various challenges faced by financial services organizations while migrating to cloud, advancements in technologies have come into place to overcome those challenges. However, organizations must follow a rigid end-to-end approach for cloud migration. It also requires to chose right vendor with expertise in financial data regulations to migrate to cloud.
ACI Infotech, with expertise in executing multiple cloud deployments and cloud migrations, helps organizations provide a cost-effective and customer-centric cloud migration approach. Our Application Process Management (APM) tools maximize the application performance and optimize them for a cloud platform, lift and shift the applications to the cloud with no adjustments required to code, or rebuild SaaS or PaaS services and architecture to add new functionalities. In addition, our expertise in financial services sector encompasses built-in features to comply with regulatory requirements. ACI Infotech, with an art of technology know-how, delivers an aura of quality while migrating your platform to Cloud using powerful DevOPs tools– encompasses agility and automation, breadth and business continuity, collaboration and cost-efficiency & many more.