Empowering Businesses
with Bespoke Visualizations
As one of the leading Power BI consulting firms, we strive to help you solve problems and capture opportunities with data. Proven, fast, and cost-effective.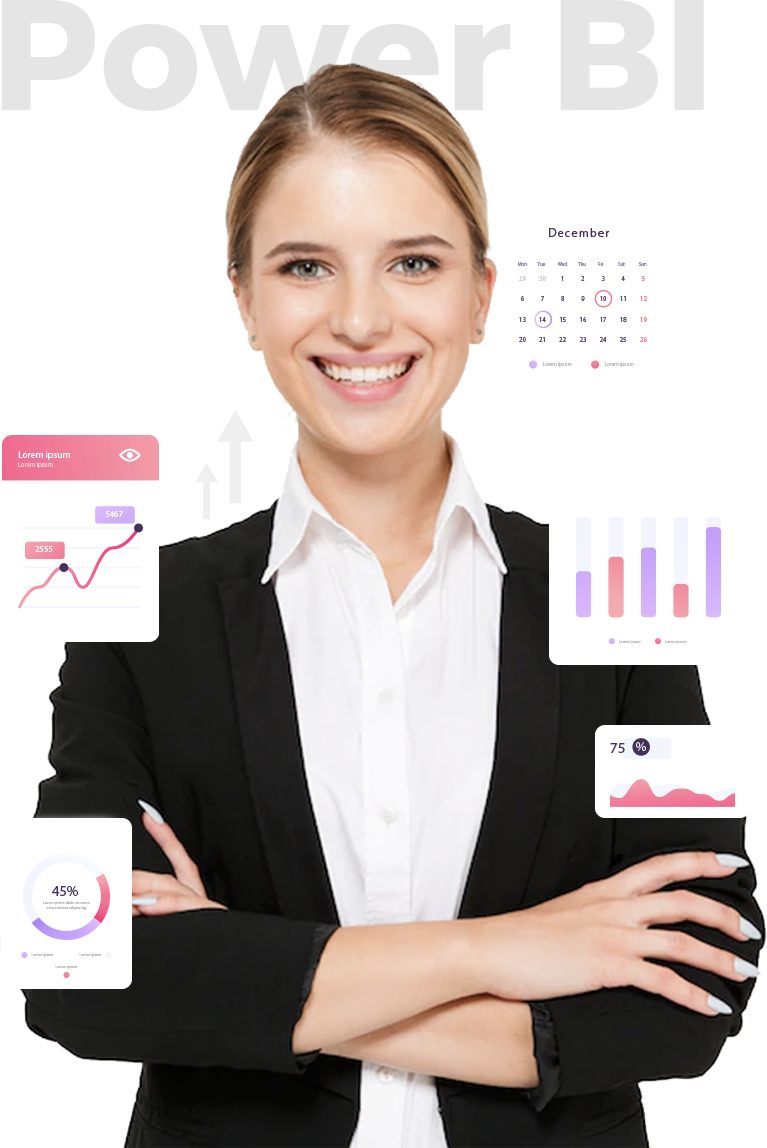 IMPLEMENTATION
Our Power BI consultants walk you through the overall process of Power BI implementation and delicate customization. The result is a perfect BI environment created for your business needs and evolves with time at par with your growth trajectory.
VISUALIZATION & REPORTS
With our extensive expertise and experience in data visualization, we create interactive Power BI dashboards and reports offering exceptional usability. We ensure that the dashboards are easy-to-use, highly functional, and help discern data at granular levels.
INTEGRATION
With our Power BI integration services, we empower you with unmatched access to disparate data sources. This, in turn, will not only enhance your data exploration's speed but also help lift curtains off hidden insights in your data.
Migration
Whether it is the transfer of business data from another BI tool to Power BI or vice versa, our consultants never let you down. We warrant smooth transfer without any data loss or corruption, all the while upholding the platform's uptime.
Support & Maintenance
We always like to keep our eyes and ears open! Our support and maintenance services cover every potential issue you can run into during your daily use or up-gradation of Power BI. New features, anomalies in data connection, or installation- we got you covered.
Analytics for Everyone.
Everywhere
Custom Power BI dashboards suited to unique needs of organizations from different industry verticals.

Insurance
Built an immersive and interactive Sales Performance Dashboard that collects raw, complex data from disparate sources, automates the data analysis process, and empowers real-time analytics with visualizations for increasing numbers of sales closers.

Healthcare
Developed a bespoke KPI dashboard with stunning visuals to garner insights into clinical data, patient care quality, and business planning & management. It enabled streamlined patient engagement and enhanced existing cost & claim procedures.

Logistics
Designed a tailored BI solution to uphold data-powered decisions in the supply chain– fast-tracking shipments, amplifying the visibility of shipment status, lessening loss following late/off-schedule shipments, and paving new business opportunities.

Manufacturing
Executed solution powered by data science for preventive maintenance, fault prediction, price optimization, and demand forecasting. The innovative analytics solution enhanced productivity, curtailed risk, and optimized the supply chain.

FinTech
Designed a custom manager diagnostic analytical dashboard for streamlining portfolio management with granular market insights. Extended engagement with product development services, experienced developers, QAs, data and BI analysts, and professional advisory.

E-Commerce
Curated a state-of-the-art recommendation engine that takes customer experience to next level and fosters profitability by dissecting crucial KPIs including purchase behavior, customer churn, cross-selling opportunities, cart abandonment, CLV, etc.
What Our Customers
Have to Say?
Here're a few of our wonderful customers sharing their experience of working with us. Our daily dosage of inspiration to go the extra mile!
"
ACI Infotech has provided creative, and highly usable dashboards. These dashboards have served our staff, leadership, and customers better understand various data sources through intuitive and interactive dashboards.
"
Exceptional customer service and unpreceded expertise over Power BI are what every successful Power BI consulting partner lives by, but a very few can deliver. ACI Infotech went above and beyond to make sure our needs were taken care of every step of the way. Thanks again for taking such good care of us.
CEO, BFSI Institution, NA
"
Team ACI Infotech did an excellent job building a world-class BI solution for us. They helped us choose the right platform, work through our business cases and implement them efficiently and effectively. I would highly recommend the ACI team to anyone doing BI work.
Our Partners
Partnerships with leading names to remain at
See and decipher data like no other forefront of emerging technologies and keep our clients abreast of trends and outliers.