Optimize
ACI CTMS Lite helps clinical research organization (CRO) to optimize study operations, streamline business operations, reduce operational costs and stay compliant by using a modern CTMS system for planning, conducting and monitoring your study.
Clinical Trial
The Role of ACI CTMS Lite in Clinical Trial Management
Drug and medical device firms conduct clinical trials during the product development process to ensure their products are secure and efficient. Clinical trial management is an expensive, and time-consuming process. If done inadequately, it can result in the collection of inaccurate data that delays time-to-market and also wrecks clinical study subjects. Not surprisingly, the life science industry is turning to technology to enhance the conduct of clinical trials, and to improve transparency into clinical study progress.
Data Quality
Streamlining the document management processes can compromise data quality and participant safety, a proven ACI CTMS solution can help drug & device companies avoid regulatory non-compliance, expedite time-to-market, increase visit reporting productivity up to 40%, and reduce operational costs.
Innovations
Banking institutions are at across roads. Constant FinTech innovations and emerging technologies such as artificial intelligence, block chain and RPA are disrupting the banking landscape. While it creates threats ,it also presents multiple opportunities to the financial services providers to reinvent themselves and succeed in the fiercely competitive world."
According to Gartner, industry transformation compels healthcare provider CIOs to rethink the traditional and design strategies to meet the new digital needs of their customers.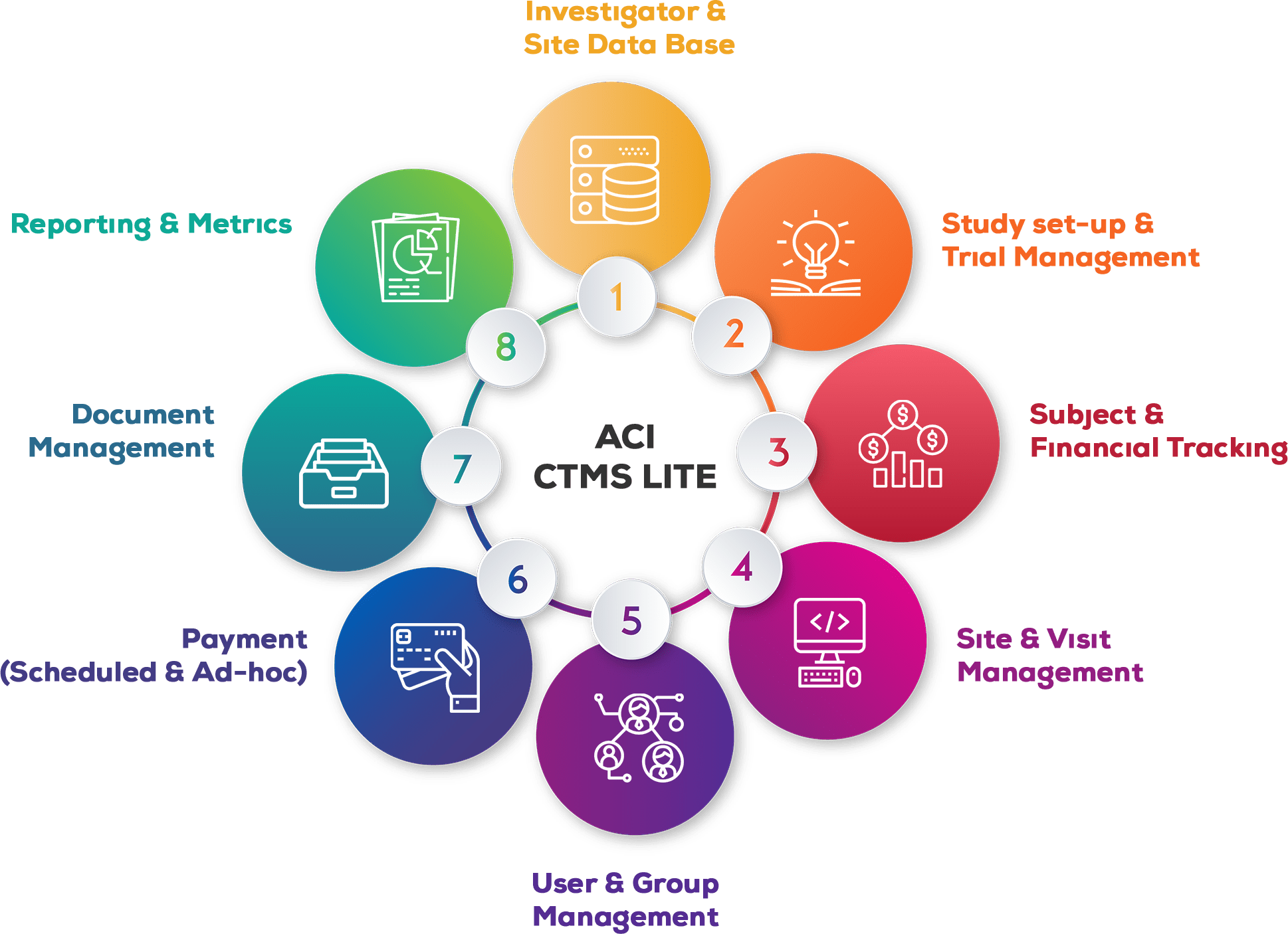 Why Choose ACI CTMS Lite:
Cloud technology allows ACI CTMS Lite to offer the likewise strength to every size of the organization—from top 10 Pharma to startups and CROs—with no IT expertise required to configure ACI CTMS Lite to the unique requirements of your study.
Agile development methodology fuels regular functional enhancements to ACI CTMS Lite and the cloud puts those enhancements quickly into your research study. Thus, ACI CTMS Lite always keeps pace with your clinical research processes.
Don't battle expensive integrations or fragmented data. ACI CTMS's open architecture seamlessly exchanges information with other systems—pre-populating data, triggering events and eliminating duplicate work.
Our customizable dashboards allow clinical trial leaders to have a clear picture of clinical trials and make business informed decisions.
We haven't traveled to them all
but our work has.
ACI is a strategic partner of global clients for managing complex industry-specific processes that impact their bottom-line. An end-to-end vertical approach to service delivery, technology-led solutions and a client-centric approach enable us to deliver business value to these clients who hail from diverse industries. Deep Industry expertise
Analytics-led approach
Agile Methodology
Global Presence
World-class strategic & technology partners
Transparent business processes
Finding the Right Partner is Always
Key to a Successful Journey
Request A Call At Your Convenience